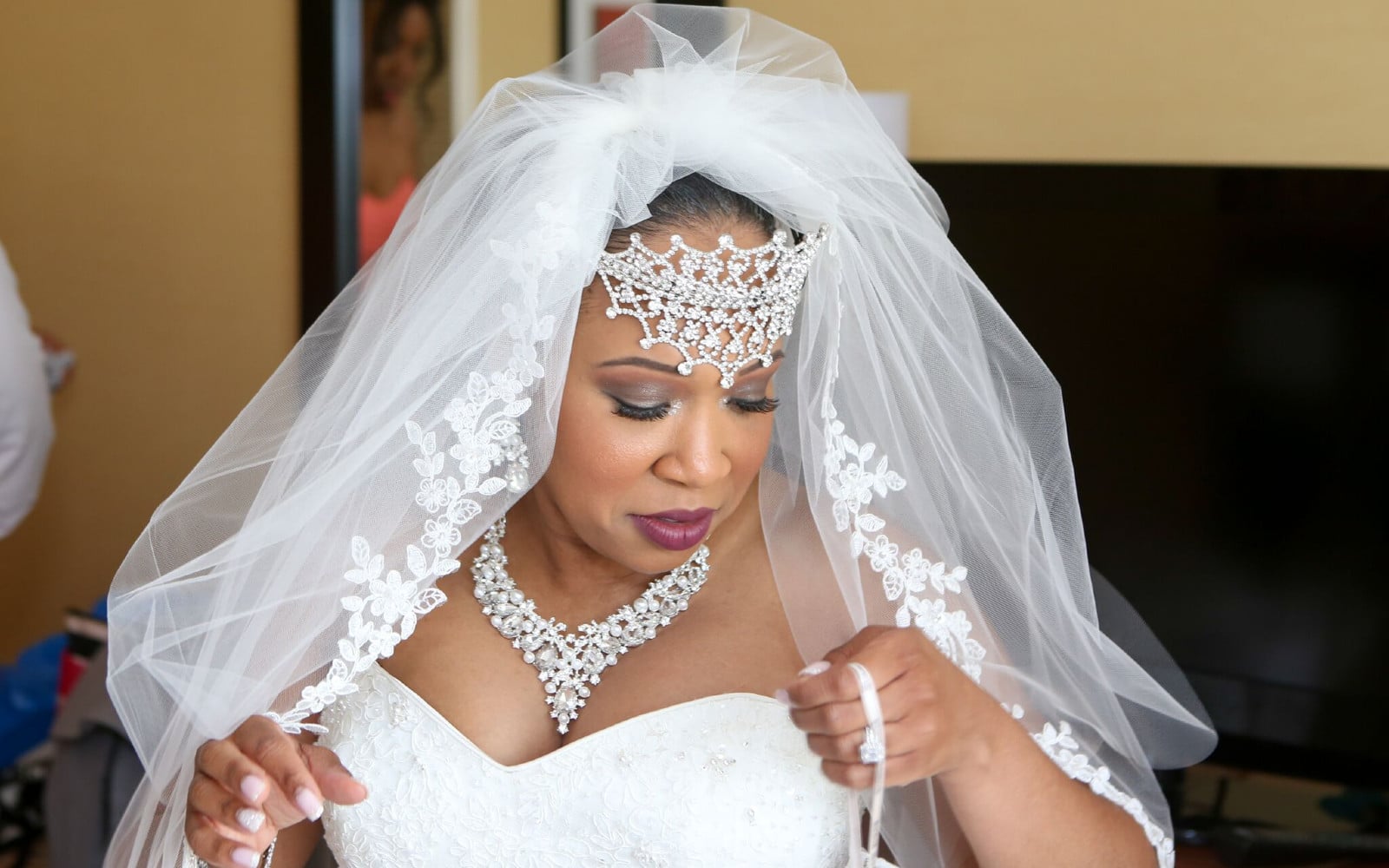 Melanie, The Garden on Millbrook, Raleigh, NC
Melanie has medium length fine natural curly hair. She wanted a classic half up half down updo worn with a tiara. Melanie worried that her hair always becomes frizzy (especially her edges), and given the heat and humidity forecasted on her wedding day, it seemed more likely she would need to settle with one of her everyday hairstyles.
Not happening.
During Melanie's trial run, to achieve the hairstyle, Darryl recommended 20 inch extensions be installed to create fullness and length to her hair to create the volume of curls needed for the hair style she desired.
On wedding day, Darryl created an elegant half up half down updo with cascading curls, topped off with a beautiful tiara personally crafted by Darryl. To combat the frizz of overall hair and edges, Darryl used Kenra 3 Dry Volume Burst Instant Soft Hold Spray to create texture at the roots, along with the Paul Mitchell Worked Up Spray to create the style. The hairstyle was finished with the Paul Mitchell Stay Strong Hold Spray, Mizani Shine Extend Anti Humidity Spritz to ensure the style would hold up in the hot humid weather, and Style Factor Edge Booster to achieve super smooth edges with zero frizz.
Style Details
Hairstyle
Classic half up half down updo with tiara
Additional Services
Hair augmentation, custom tiara hand-crafted by Darryl, dressing service
Products Used
Kenra Dry Volume Burst Instant Soft Hold Spray, Paul Mitchell Worked Up Spray, Stay Strong Hold Spray, Mizani Anti Humidity Spritz, Style Factor Edge Booster
Challenges Faced
Faced: Outdoor summer wedding, extreme heat and humidity